Hey Gente,
This week has been a solid one, full of brilliant ideas and few new bits of news, but nothing too over the top. Thank Jesucristo, cuz I need a bit of a breather. With that, I hope you guys had a great "Hump Day" and I hope you have an amazing rest of the week. Let's get this going:
LAST BLOG TEASE . . .

So I started reading Manuel Gonzales' THE MINIATURE WIFE AND OTHER STORIES out of Riverhead Books and it is cleaver. I haven't read the whole thing yet, but if the first half (about 100 pages) can keep my attention, then hell yeah, I'll eat the rest. (When I say eat, I mean read, ha. )
So far, Gonzales manages to take a dive on fresh ideas - that is to say he takes you, by the neck, opens the book for you and you nose dive into the stories. His set up of the back drop in each story isn't some long diatribe, he just nails it. His use of language is clean and simple and your eyes never lift off the page. Gonzales in this book (HIS FIRST ONE!!!!) take you through 18 stories in this collection. Its good. Me like. He touches on a bit of old school horror (shrinking wives, wolves, perpetual oil, etc.) and keeps the rise and fall of the action in each tale very different than the last.
I am by no means a book critic, so you don't have to pick it up because I said so, BUT, GO. GET. THE. BOOK. - Cuz I told you to. AND. IF you want to know more about the author, then click here.

A WEEKEND REVIEW

So sometimes, I get the chance to either see something amazing or be a part of something amazing and I then get to tell you about it. Here is one of those moments. I say moments, but, what I really mean happened in like 4 friggin days!!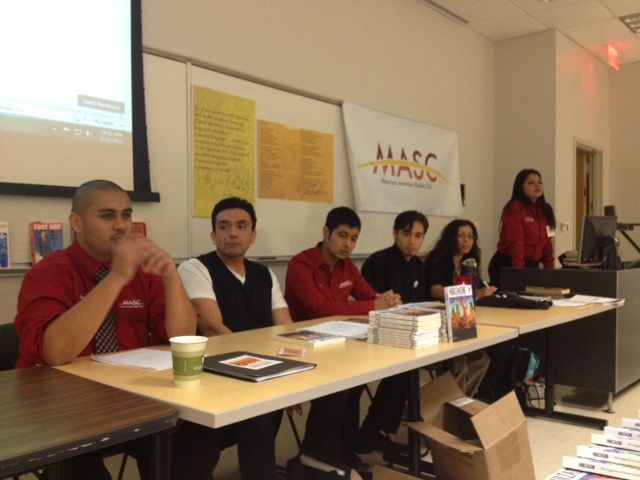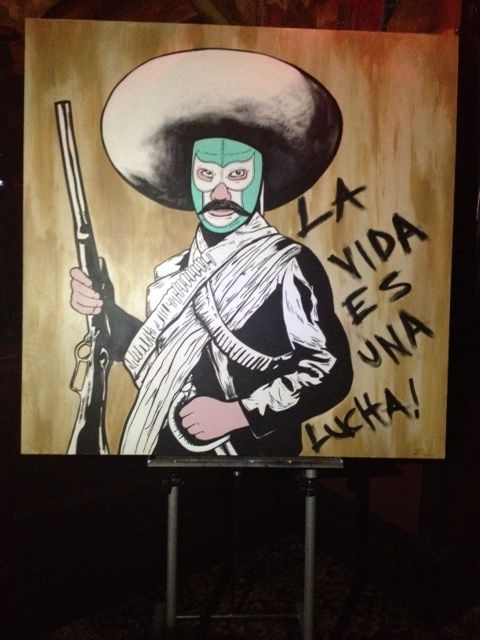 It all started on a Thursday - the rest of the Nuestra Palabra crew - Tony Diaz, Laura Acosta, Liana Lopez and I packed in my little SUV and trekked it down to Edinburg, TX, into the lovely RGV (Rio Grande Valley) for the NACCS Conference - National Assoc. of Chicana/Chicano Studies. Let me tell you how refreshing it was to meet and talk, dissect and describe things with esta gente. It was an amazing time. I learned alot and was humbled at how everyone I met was willing to listen.
There at the conference, we were able to put on a session about the Librotraficante Caravan, of course showing the highlights of the trip - traveling with the banned authors, meeting the students in Tucson, AZ and the trip itself, but we also got to talk about the behind the scenes elements. THERE were college students, professors, community organizers that were even more thrilled at the way we planned it all out. It felt as if we spent more time talking about how to organize a community than how we rubbed elbows with folks. But then, that's what NACCS and Chican@ Studies is about - the community. I even got to drop a poem in the middle of the session -
In addition to getting a session at the conference, we also got to attend several session - two of my favorite were totally dissimilar:
one was a presentation of proposal - a bold young lady, by the name of Laura Oviedo who is working on her Masters there at UTPA is currently working on uncovering and connecting to records of Mexican-American participation in the military from WWII to VIetnam. It is an arduous undertaking, but she got it, she got it. We got a blessed chance to help this impressive young lady out. Somehow, and I can't remember who, but we found out that one of the guys that's she's uncovered info about is a Freddy Gonzalez - they even have a street named after this WWII vet, has his mother still alive and kicking, apparently working in the same hotel we were staying at - "The Echo". Well, the next morning, Sunday, as we are planning on eating breakfast and heading back to HTX, our waitress looks to be a sweet OLD LADY - well, Tony, brave as ever asks her if she is the mother of Freddy Gonzalez and she says (and I kid you not) "no, no, she works at the H-E-B across the street. Me, no, not the mom, but I am his AUNT." ANd just like that, a connection is made. She showed us in the Echo photos, plaques, messages and posters all about Freddy. We quickly got a hold of Laura and told here to get in contact with the Gonzalezs - his tia was so proud. She told me personally "thank you all for remembering him". I cried a bit.
The second session I attended was a reading by Helena Maria Viramontes. I am a fan. I am a big fan. I am a book nerd, so nerdy that sat up in front and when it came time to ask questions the only I could ask was "What got you back into finishing your MFA after 12 years?". Yep it was amazing. It has helped my soul figure out what direction I want to take my MFA experience in.
A major thank you to Ed Vidaurre- "the Barrio Poet", Laura, Ruben and everyone from the RGV. I now know I have a home away from home.
the road back into the HTX was quiet, full of conversation and battle planning between me, Tony and Laura. I was glad to get home and about all I could do was take a nap, because that night, my boy, MARLON LIZAMA took center stage - with CULTURAL LADRONES - it was an amazing expression of poetry, music and art. It was intimate and positive. It was hype. It was classy. It will happen again.
Here is just one of the many amazing moments from that event -
NEW DETAILS...
So with last weeks intensity, we end up here, in this week. All is calm on this battle ground. I am some somewhat rested and ready for the week. About the only thing I can report is the following -

Rubén Martínez is COMING TO HOUSTON!!! (Click on his name to get more info on the man) . His new book Desert America is coming out and he will be at Brazos Bookstore today!! Go see him.
Click here for more details. Maybe I will see you there, yes?

So I think that wraps up this blog for the week. Hope you have an amazing weekend. Make sure you click on all the buttons on this blog, the vids, the links and like the damn thing. Leave a comment too!!
I leave you with this teaser: